Last Friday, a large group of migrant workers (tomato pickers)  from Immokalee, Florida joined the Middle School for breakfast. Students in the cooking rotation prepared the meal and all Middle School students were invited to join the guests to eat. This was a combination "Purim Feast" and gift for the poor. The migrant workers shared some of their stories with the students so that they could  better understand the harsh conditions under which they work. The students were then asked to write about it on their blogs.  Here are a couple of their reflections.
If you are wondering why my title says Freeeeeeedom!!!, it is because of what happened last week on Friday. Last Friday, the 6th, 7th, and 8th graders went to school early to make breakfast.  The breakfast was not just for us, it was for other people who were coming.  The people who were coming were from South Florida.  They were the Immokalee farm workers and tomato pickers.  We were serving them breakfast because they do not get to eat a lot.
Now, let me backtrack for you to tell you about the Immokalee tomato pickers.  The Immokalee tomato pickers are farmers who are tomato pickers.  They are slaves and they get paid under minimum wage.  They work in the hot sun in very harsh conditions in Immokalee, Florida.
Last Saturday night, we celebrated the holiday Purim.  One of mitzvot of Purim is to give gifts to the poor.  In Hebrew, the word for gifts to the poor is matanot l'evyonim.  We fed them breakfast.  I think we followed the mitzvah of matanot l'evyonim because they do not get to eat all the time.  We fed them hashbrowns, eggs, biscuits, cereal, milk, water, donuts, orange juice, and coffee.  I think that the breakfast was aPurim feast.  I think so because there were a bunch of people there and a lot of food.
I learned a lot about the tomato pickers' situation.  I learned that they were on a 10 day "fair food" tour.  Fifty of the tomato pickers went on the tour.  The 10 day tour included stops in Jacksonville, Atlanta, Nashville, and Lakeland.  In Lakeland, they were going to meet with Publix again.  The Pickers want Publix, the largest grocery store, to agree to pay a penny more per pound of tomatoes under a "fair food" agreement.  It started Friday afternoon.  Other places they want also are Walmart, Burger King, and Taco Bell. Activists also want support from Wendy's.  More than 1000 people were there to protest.
I feel differently about them and their needs and situation now after meeting them because now I know the whole story about them and what they're fighting for. I would love to protest with them.
http://www.orlandosentinel.com/news/local/breakingnews/os-publix-protest-fair-food-lakeland-20140315,0,7380023.story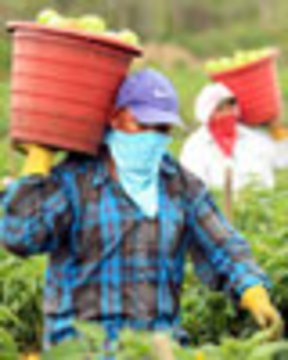 http://www.democracynow.org/images/story/91/3091/splash/ImmokaleeFarmworker4-27.jpg?20140114
Mar 17
Breakfast on Friday by: Rachel L
On Friday, I woke up early to come to school. Normally I wouldn't do that, but Friday was different.  On Friday, the middle school and I served breakfast to immigrant tomato pickers from Immokalee.  They were part of  "The Coalition of Immokalee Workers." Friday was also Purim so all the middle schoolers dressed up.  I was a rainbow!
Purim has certain mitzvot.  One of them is "matanot l'evyonim"- gifts to the poor.  The breakfast was "matanot l'evyonim"  because they are poor.  They don't get paid much picking tomatoes.  The breakfast was a Purim feast because we fed a lot of people.  The workers are not paid much for each bucket of tomatoes they pick.  They work in hard conditions and are not allowed to rest.
After meeting them I hope we can help them again.  I learned that they are fighting for better conditions.  I completely agree that they deserve it.  It was a great thing to do on Purim. I hope to do it again.
Image taken by Rocky Raybell; on October 8, 2013; Found on Flickr
The Tomato Pickers Come To Town
By 
Noahr
 on March 18, 2014 at 1:30 am
 Last Friday my middle school served and ate breakfast with 
tomato pickers
. This was the Purim mitzvah of giving gifts to the poor. It was also a Purim feast. It was a Purim feast because we had a feast with tomato pickers.
The tomato pickers are fighting for better rights in the fields. They get paid extremely little for a lot of work. They are beaten and raped. They can't even put in reports of obese without getting beaten for it. All they are asking for is that big food companies don't buy tomatoes from these farms and they want just one more penny per pound.
Having this experience made me feel bad for them. There were little kids there. I was very happy to help them. It's very disturbing to know what happens to them out in the fields.
On Friday, we served and ate with the Coalition of Immokalee workers from Immokalee, Florida. They are protesting against restaurants in the east. They have protested in Ohio and in Lakeland, Florida because two major companies will not join the Fair Food Program for these workers to make a little more money in their paychecks. Their income is usually from ten thousand to twelve thousand dollars per year.
The breakfast was a gift to the poor because the workers would be starving if we did not feed them anything. It was a feast because there were many people there and we all ate together. I learned from the guests about their situation that the workers are going through tough times trying to get more restaurants and grocery stores to join the Fair Food Program.
I felt after meeting the workers that this is major for them. They need better salaries, so they can take care of their needs. With  a salary from twelve thousand dollars, or less a year is not much. The workers really need the money, or it will be hard to take care of themselves. With inflation on goods, they will not have extra money when they need it.
Citation:
Monahan, Susan. tomatoesscm.jpg. June 2003. Pics4Learning. 16 Mar 2014 <http://pics.tech4learning.com>