We are going on a field trip on Thursday to "Hawaii". Do you know that Hawaii has many volcanos? Your volcano that you are going to create is located in this beautiful state. Here are your directions:
1. Take a tin pan.    2. Get a jar or cup.    3.Place the cup in the middle of the pan.   4. Cover the sides with tin foil dough, clay, or dirt     5. Keep the top open    6. You can place models of people or houses on the base of the volcano. They must be smaller than the volcano.  7. Bring in before or on Thursday morning   8. Get ready for an eruption!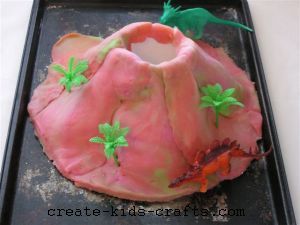 If you had a chance to walk on top of a sleeping volcano, would you do it with your family? Why or why not?  Bonus: Give one example of a landform that you would like to visit.